As reported in the New York Times and elsewhere, Wisconsin's Governor Tony Evers has rejected Brendan Dassey's petition for commutation of his life sentence. My colleagues Laura Nirider and Steven Drizin, of Northwestern's Center on Wrongful Convictions, have represented Dassey for many years, consistently asserting his innocence. The case became nationally well-known four years ago in the Netflix documentary series Making of a Murderer. Dassey's conviction, which was most recently upheld by a 4-3 vote of the en banc Seventh Circuit, rests entirely on a statement that was extracted under coercive circumstances. As Laura and Steve put it, "Brendan Dassey has been imprisoned for 13 years based only on a false confession that is inconsistent with the known facts of the case, has been disproven by DNA and forensic evidence, and was immediately recanted."
Dassey's clemency petition was supported by hundreds of national legal and psychology experts, former police officials, former prosecutors, and clemency experts. 
Here is the statement from Laura and Steve responding to the clemency denial.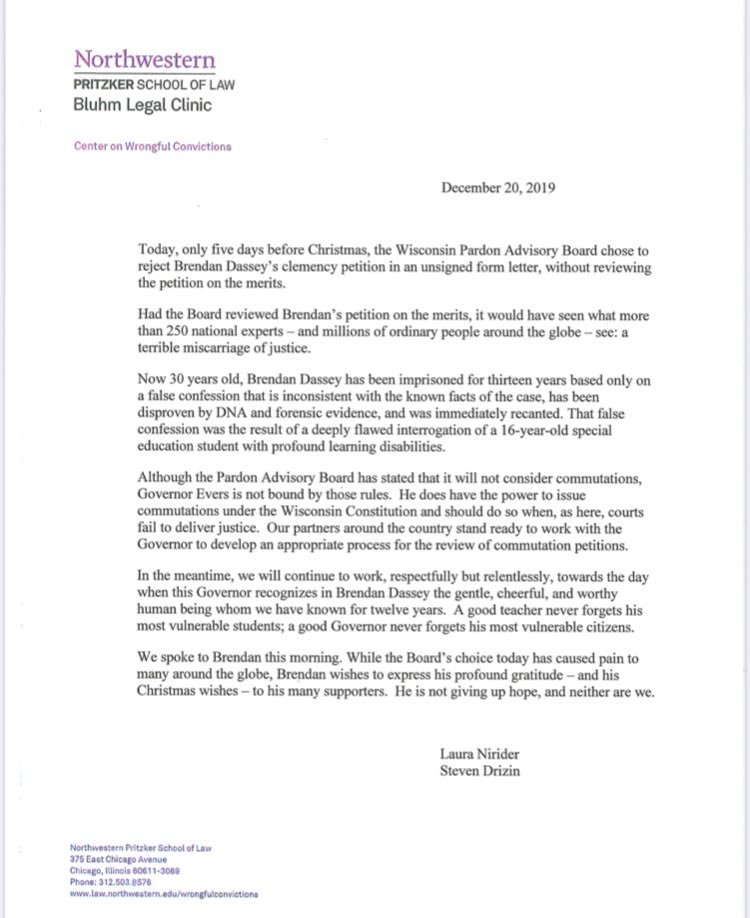 Laura's brilliant explanation of The True Story of a False Confession is after the jump.
This is a two hour video, but it is worth watching even if you only have time for the first 30 minutes or so.